Written by: Bailey Petrofsky, Morgan Feingold, Stefanie Hymovitch, Jacob Ferrill., Noah Pearl Rachel Nach, Jessie Rosenberg, Talia Bonninger
Pictures by: Brendan Ginis
Shalom,
As you all know, we arrived in Israel three days ago.  We have been through so many adventures already and these are a few that we've enjoyed the most:
Tuesday night, after a long day of traveling, we took a walk through the amazing Old City of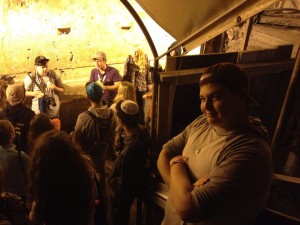 Jerusalem.  At the end of the night, we were in awe by our first look at the Kotel, the Western Wall.  We all wrote personal notes and placed them in the Kotel.  It was intriguing to see all the people praying.  We felt the presence of the generations of our ancestors who visited this site and placed their hands on the holy stones of the Kotel, praying to God just as we did.  We felt the power of all of the prayers coming in toward Jerusalem.
We also visited Robinson's arch on our second visit, to see the egalitarian section of the Kotel, where men and women can finally pray together.  We were able to experience the significance of the Kotel together with our entire group, instead of being separated by gender at the prayer plaza.  For most of us, this was our first time experiencing this amazing site.  The feeling you get when you first see the Kotel is incredible.  This is one of the many memories we will never forget and we will cherish forever.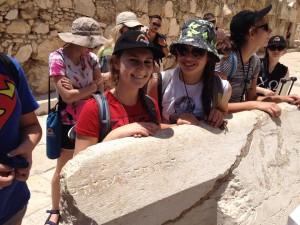 On Thursday morning, we woke up early for a long, peaceful hike at Wadi Qelt, in the Judean Desert, outside of Jerusalem.  The hike began with a steep descent into a lush valley.  The hard work paid off when we arrived at a natural spring.  After a refreshing dip, we continued our hike and you'll never believe what we saw… a mountain rabbit! In Hebrew, it is called a Shafan Selah, and looks like a huge hamster!
Later on in the day, we experienced an awesome program, Outdoor Training, including teamwork, teambuilding activities and friendly competition.  Some of the activities included an egg drop, blindfolded maze, chopstick tower and more.  All in all, we are having a fantastic time and are having an amazing trip!  We can't wait to celebrate our first Shabbat together in Jerusalem!