Camp Daisy and Harry Stein has been in existence for more than 30 summers, located in the town of Prescott, AZ.  Being part of the Prescott community has been always been something that campers, staff and families have not taken for granted and have taken great pride in.  Although at times during the summer, it seems as though camp operates inside a "bubble", and anything that occurs outside of this "bubble" may not seem as important as what occurs inside.
This past week, that couldn't have been further from the truth.  A nearby lightning strike in the town of Yarnell, AZ (30-40 miles Southwest of Camp Stein's property) caused a fire to break out.  Local firefighters from the town of Prescott were called in to fight this fire.  Tragically, 19 firemen lost their lives during this battle.  When our camp community was informed of this horrific news, not only were we saddened, but we were also very thankful that people like them sacrificed their lives to keep us safe every summer.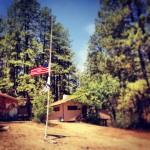 In wanting to pay tribute to these brave firefighters, and show pride in being an active member of the Prescott community, the Camp Stein flags were flown at half mast a few days after the tragedy.
Also, campers and staff wrote letters and made cards to give to the local fire station, showing their gratitude for their bravery in providing a safe environment for camp to occur every summer, and also to say their thoughts and prayers were with the families of the victims.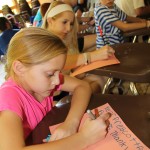 The cards were delivered to the local law enforcement officers who were set to bring them to the command post to give to the families of the victims and the firemen.
On behalf of Camp Stein, we could not be more thankful for the sacrifice emergency officials make every day to ensure our health and safety. And to the families of the victims, may their memory be a blessing.