Dates & Rates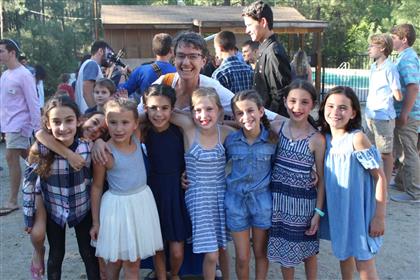 SUMMER 2019 Dates and Rates
Session
Grades
Dates
CBI Member
Synagogue Affiliated
Non-Affiliated
Bonim

2nd - 3rd
1: June 4-June 10
2: June 10-June 17
3: June 17-June 30
4: July 2-July 8
5: July 8-July 15
6: July 15-July 21
$936
$936
$1,872
$936
$936
$936
$1,036
$1,036
$2,072
$1,036
$1,036
$1,036
$1,136
$1,136
$2,272
$1,136
$1,136
$1,136
Rishonim

4th - 5th
1 Aleph: June 4-June 17
1 Bet: June 17-June 30
2 Aleph: July 2-July 15
2 Bet: July 15-July 28

$2,462
$2,547
$2,687
Rishonim

4th - 5th
1st Session: June 4-June 30
2nd Session: July 2-July 28
$4,839
$5,039
$5,199
Kadimah

6th - 7th
1 Aleph: June 4-June 17
1 Bet: June 17-June 30
2 Aleph: July 2-July 15
2 Bet: July 15-July 28
$2,462
$2,547
$2,687
Kadimah

6th - 7th
1st Session: June 4-June 30
2nd Session: July 2-July 28
$4,839
$5,039
$5,199
Chavurah
8th - 9th
1 Aleph: June 4-June 17
1 Bet: June 17-June 30
2 Aleph: July 2-July 15
2 Bet: July 15-July 28
$2,492
$2,567
$2,702
Chavurah

8th - 9th
1st Session: June 4 - June 30
2nd Session: July 2 - July 28
$4,899
$5,079
$5,229
LTP/Giborim

10th
1st Session: June 4 - June 30
2nd Session: July 2 - July 28
$4,899
$5,079
$5,229
Big Trip Israel
11th
TBD
TBD
TBD
TBD
Ozrim-CITs

12th
1st Session: June 4-June 30
$3,644
$3,744
$3,944


Sibling Discount
$75 per child off camp tuition for second (and subsequent) camper(s).
Camp Stein Scholarship Program
We are committed to ensuring that every Jewish child has the opportunity to attend Camp Daisy and Harry Stein. We understand that for many families, financial hardship is the only barrier to a summer of a lifetime. Here are more details about our program and how to apply:
Camp Stein's scholarship funds are generated almost exclusively by the generous gifts of members of Congregation Beth Israel. As in past summers, we are also committed to working in conjunction with non Beth Israel families and their home congregations and communities to make a summer camp experience possible for all families in need.
A child must be enrolled in camp for the scholarship application to be processed and considered. Scholarship assistance is provided as a credit on camp fees only for the 2019/5779 summer and may not be applied for past fees owed or transferable to future years.
The amount of scholarship awarded to each family will be based on the number of applicants and level of need.
Scholarship Applications are now open and will close on March 1st!  For any questions or concerns, contact Leah Zigmond at (480) 951-0323 or email campdirector@cbiaz.org.
Announcement of scholarship gift amounts will be sent in April 2019.
Camp Daisy and Harry Stein's "One Happy Camper" 1st Time Camper Incentive Grant
If your first-time camper is attending camp for a minimum of two weeks, your camper may be eligible for a One Happy Camper grant of up to $750! Apply here!