Who's in the house?! Chavurah is in the house, and closer than ever! Chavurah returned from their overnight, where they spent two nights and three days in Flagstaff, Arizona, this afternoon cheering and excited to be back at camp!
On Wednesday afternoon, we packed the bus and van and headed for our adventure.  We began the overnight with a stop at Wupatki National Monument to see the ancient Hopi ruins and learn about the lives of Arizona's Native Americans.  After visiting the ruins, we finally made it to our campsite.  After unpacking, we ate dinner. For our evening program, the entire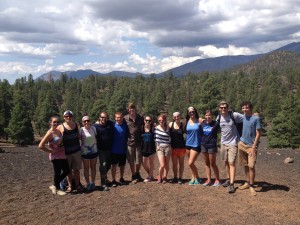 unit played Characes, a game similar to charades combined with a relay race, and other team bonding activities.  Then it was off to bed to get some rest for the exciting day ahead of us!
The next morning, up bright and early, we ate breakfast, lathered on sunscreen, and returned to the bus.  After a short drive from our campsite, we reached Sunset Crater Volcano National Monument and hiked through the lava fields of a previously active volcano.  Then, slowly but surely, we made our way up the very steep hike to Sunset Crater.  Once we all reached the top, we took a moment to reflect on our Chavurah experience so far, followed by a quick photo op.  We then hiked down Sunset Crater and returned to the campsite for lunch and more bonding activities, cards, and some much needed downtime.  Later that night, we cooked dinner and headed to the Lowell Observatory.  We participated in a lecture about our universe and were able to see the giant telescope! We then returned to the campsite and went to bed.
In the morning we packed up the campsite and made our way back to Camp Stein. We pulled into camp cheering to announce that Chavurah was in the house, and better than before. The overnight was a success and helped to bring the unit closer together.