By Jessielyn Kreitzer, Chavurah Unit Head
This past week Chavurah took at three day trip to Flagstaff and the Grand Canyon! On Tuesday we packed up our gear and headed for the Kaibab Lake Campground where we set up camp and slept under the stars. We enjoyed a foil pack dinner and made s'mores over the campfire.
On Wednesday we woke up bright and early and made ourselves a pack lunch for our first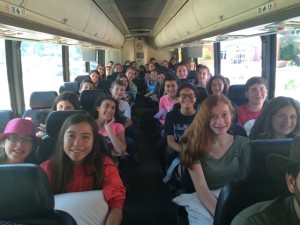 adventure. We drove to Tusyan to meet our tour guides and hopped into jeeps for a safari-like excursion. We drove through the Grand Canyon National park, learned about the wildlife, and even experienced some Native American culture. We took some stops along the South Rim to enjoy views of the one and only Grand Canyon. After a long day of fun and sun we headed back to the campsite for an evening program and some well deserved rest.
On Thursday we packed up our site and drove deeper into Flagstaff to visit the Lava River Cave. The cave was created over 700,000 years ago by a rush of lava that solidified and created a tube-like cave underground. We climbed into the pitch-black rocky terrain and embraced the cool air. With flashlights in hand we walked about a mile through the natural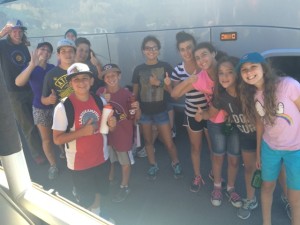 structure and helped each other through the tough hike. After the cave we drove to Northern Arizona University to have lunch in the grass and learn a little bit about where some of our counselors spend their school year.
After a long few days of activity and sleeping under the stars we were all ready for a good shower and long rest in our beds. It was amazing trip but we are all happy to be back and excited for the rest of the session!