By Chloe Carriere and Bailee Petrovsky
We arrived to our campsite around 6 pm and hiked through the woods until dinner was ready. After dinner, a counselor started a campfire and the kids made s'mores. The campers had tons of fun eating the s'mores and hanging out around the fire. We played games until evening program, which was an amazing experience using glow-sticks, glow-in-the-dark balloons, and glow-bubbles involving the stars and constellations. Everyone slept well that night.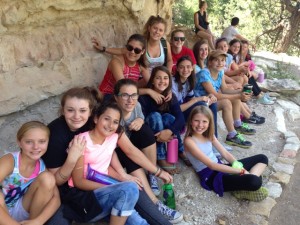 The next morning, the campers were awoken by the sun. They were up and full of energy and excitement for the day ahead of them. We made breakfast, cleaned camp, and headed out for a scenic hike at Walnut Canyon. The unit broke off into cabins to enjoy the hike together. We took photos in the ancient ruins, and then headed back up to the bus for lunch. The campers ate delicious lunch on the bus while watching Night at the Museum on the way home.