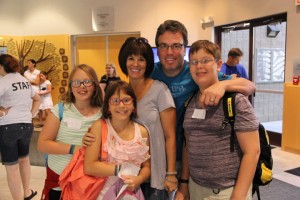 June 12th finally arrived, and the countdown was finally over. 1st Session 2013 is underway!  Opening Day went off without a hitch, with close to 150 campers travelling to  Prescott to via buses from Congregation Beth Israel or being dropped off by their parents at camp.  Once all the campers had arrived and the luggage was dropped off in everyone's cabin, camp was on!
The counselors cheered with excitement as they were introduced to their new cabins, and old friendships were renewed while others were just forming. With a great mix of new and returning campers and staff, the relationships that sprout from the summer are sure to be meaningful and long-lasting.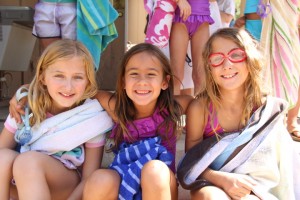 Instantly after arriving, campers and counselors went off and had a picnic lunch somewhere on camp with only their cabinmates, and started to build their cabin community.  The afternoon brought orientations at various areas, including the pool, where everyone got a chance to cool off from the heat.  The evening brought dinner in the Moadoan, followed by camp's first rocking song session, evening T'filah, and then Unit Evening programs. All in all, it was a GREAT Opening Day.  And if Opening Day was that much fun, just think how the rest of the session will be.