The 2013 summer has finally begun. With the arrival of the staff, a new vibe of excitement has blanketed camp. Our first Shabbat was spent together on Friday night. It included all of camp's old traditions of strawberry salad and matzah ball soup, song session and evening T'filah in the Irv Pearlstein Chapel.


The staff has been hard at work learning their roles, programming and building a strong staff community. Each specialist is organizing their specialty area with new equipment and mastering their trade. And also, the senior counselors are getting their feet wet in all the different activities on camp.
There are also some new and exciting features at camp this summer including a longer and more thrilling zip line and a new dance studio. There are staff from six different countries including Israel, the US, Netherlands, Mexico, Scotland, and the UK. The archery range has been moved and is bigger than ever before and there are more horses in our horseback riding program than camp has ever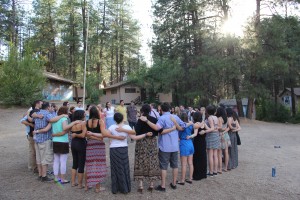 seen.
Even though an amazing bond has been established between the staff, one thing is still missing…the CAMPERS! We are all eagerly awaiting their arrival on Wednesday and ecstatic for camp to finally be complete. Have fun packing up your last belongings, as we prepare for what will be a summer of fun that will create a lifetime of memories!