The Administration team met for the first time this summer on June 3rd in the afternoon. Since then we have all been fast at work to ensure this summer is an incredible inaugural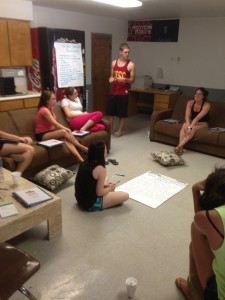 experience.It is very exciting meeting with the other administration, some for the first time and others who we have known for years while putting our joint efforts and experiences towards a community and a home we all believe in.
Yesterday we kept up with the tradition of making a mission statement for the summer. It was fulfilling to hear the eager minds of everyone and our promise to hold ourselves as a team to a higher standard of "passion, positive attitudes, communication and flexibility, as we strive to make lasting connections" with both our staff, campers and other administration.
Ultimately, the last two days we have worked on our programming, logistics of the summer, and prepping our returning and first year administration for an incredible and well prepared journey. This year's administration is as cohesive as ever, and by the hours, the synergy and the love between us all grows.