Three full days into Admin week and the team is still as energized as could be! If I could sum up the focus of our last 72 hours into one word, it would be: PROGRAMMING! While there is no doubt that the camp "magic" is created by the lifelong memories built by our campers and staff, the administration have been hard at work preparing the toolbox to ensure camp's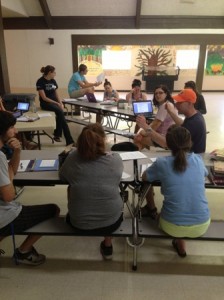 success. We've fine-tuned the daily schedule, created incredible and entertaining evening programs, and spent quality time with Rabbi Keller in  beginning to create our Limud programs (Jewish education).
With staff orientation just a few days away, we have been eagerly planning our all-important staff training. We know that our counselors and specialists will be 100% ready to welcome our amazing campers come next Wednesday. Can you believe that??? CAMP IS ONE WEEK AWAY! With the countdown to the most incredible summer ever at 7, our excitement grows by the minute.
In even more exciting news (is there even such thing?), our Shlichim (Israeli staff) arrived on camp today driven by the one-and-only Jason Bronowitz! During tonight's evening program–dance aerobics–our Israeli counselors taught us a dance that is sure to be a hit with the campers this summer. Our camp community is growing every day, and I get the chills thinking about the summer of fun and the lifetime of memories this admin team is ready to create.