Chavurah Goes to Camp Verde!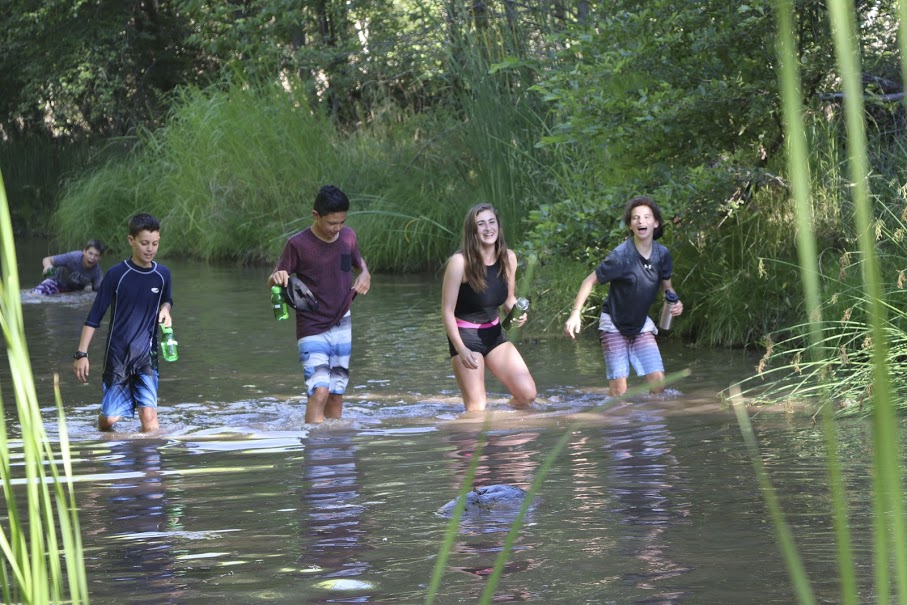 Hello from Chavurah! This past week, Camp stein's largest unit on camp ventured to Camp Verde for a 2-night, 3-day camping trip filled with river adventures, stars, and smores.
On the first night, we arrived and set up camp. Once settled in, our counselors led everyone on a water hike down a nearby stream. When we returned, we all enjoyed a delicious dinner of hamburgers and hotdogs. Later that night, we enjoyed an evening program that allowed us all to get to know each other even more and learn about all the things we have in common with each other. We celebrated the first night of camping with banana boats. In case you don't know what a banana boat is, it involves cutting a banana down the middle, filling it with chocolate chips and marshmallows, and roasting it in the fire. Yum!!
The next morning, we woke up, ate breakfast, donned our bathing suits and sunscreen, and traveled to the Verde River access point where half the group prepared to kayak. While cabins Namer and Aryeh kayaked down the river, cabins Tzipor and Tanin played in the river and explored ancient Native American cliff dwellings. Chavurah reunited for lunch and afterward, the two groups switched activities. By the end of the day, everyone had had the chance to float down the Verde River as well as tour the ruins. It was a successful day of outdoor adventures! Back at the campsite, we prepared spaghetti, meat sauce, and garlic bread for dinner. After dinner, we relaxed and played cards and enjoyed the beauty of the nature around us. But of course no camping trip is complete without smores! After a successful day, we all happily fell asleep under the bright stars. It was a site we all definitely don't get to see back in Phoenix!
The next morning, Chavurah campers and staff woke up and enjoyed one last meal together on the overnight: breakfast burritos! We packed up, cleaned, loaded the buses, and off we went back to Camp Stein. It was a fun filled and beautiful trip, and after 3 short days we all felt much closer. I am so happy that I've had the chance to be the Unit Head for such an incredible group of kids!
Written by: Jamie Klein, Chavurah Unit Head