By Dori Singer
Media Specialist
Yesterday was Opening Day for Second Session here at Camp Stein for Summer 2014!  We opened our gates once again and welcomed over 160 kids on to camp. Minutes after off the bus, rain began to pour from the sky, but that wasn't enough to stop us from having a fun first day!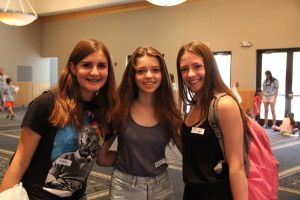 To start off the day, we began by breaking into our cabin groups and getting to know one another.  The afternoon was spent unpacking, creating cabin cheers and posters.  We then had dinner and a beautiful t'filah lead by our Judaics Director and Songleader.
That evening, the cabins presented their cabin poster and cheers at the Opening Ceremony Olympics Program lead by our Cornerstone Fellows: Jordyn Blonder, Ellie Emerson, and Dylan Hartman.  The ruach and spirit that filled the gym was overwhelming!  We concluded our first day by lighting the Camp Stein Olympic Torch, saying the shehechyanu, and introducing the summer's new nightly ritual, saying the hashkivenu before going to bed after a long and exciting first day.
If the rain can't stop our fun, nothing can! We cannot wait to see how much more fun the rest of this summer will bring!