"I'm always tired, there isn't enough food, and my kids drive me up a wall."
When I tell people that I am long to spend two months in northern Arizona as a counselor at my synagogues summer camp, the first thing they ask me is why? Why do I find it so appealing to give up essentially my entire summer to be a counselor for kids I don't even know.
Well I'll tell you.
The beautiful thing about Jewish Summer Camp is that is enables kids to seek their true potential through team building, activities, and over night trips. The reason that they are able to do this is because they are with a group of kids going through the same "soul searching" experience.
This summer was my first year on staff at CDHS, after being a camper 5 summers prior. I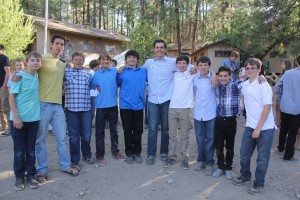 have the fortunate opportunity to be the incoming 8th grade boys counselor. I know what you're thinking. How does one deal with hormonally raging, girl crazy, puberty stricken boys? The answer is not clear, but I feel that because of my connection with the camp I can guide then to realize their true potential.
Before the summer started I posted something on facebook that basically said I will be the counselor that Aaron was to me. Aaron was my 8th grade counselor and he was the reason I kept coming back to camp.
Parents trust counselors. Parents have so much courage sending their kids away to camp trusting that we will make their child comfortable, keep their child safe, guide their child in times of need, provide a "big brother" or "big sister" figure that still demands respect. Counselors are essentially the parents for the time the child is at camp. We deal with numerous breakdowns, temporary moments of sadness, and camp break-ups. I love it. One of my campers had a situation regarding a girl. He and I sat on the porch our cabin and talked it out. I told him what happens in these situations and how he should go about dealing with it. I felt so good as he walked away and said," hey randy, that's really great advice."
Right now i am on a bus with 35 7th and 8th grade boys and girls. I'm sitting in the back and I realize why being a counselor at a Jewish camp is so important. It is because I am cultivating these kids' Jewish identities while at the same time watching them mature and find themselves. Camp time says it all, the days feel like weeks, the weeks like months, but it will pass by in the blink of an eye. During that stretch of time there is so much to be done to build these kids with a strong sense of Judaism, a pride in their religion and a unbearable bond formed with their cabin mates and unit. But most important, and what happens before all of that is the value that my campers discover in themselves. All of them have such great qualities and such outstanding potential, and I feel honored that I am their counselor helping them, guiding them, watching them, and keeping them safe.
I'm always tired, there is never enough food (8th grade boys can eat!), and sometimes my kids drive me up a wall, but being a counselor at a Jewish summer camp like Camp Stein is the most rewarding position I am in.